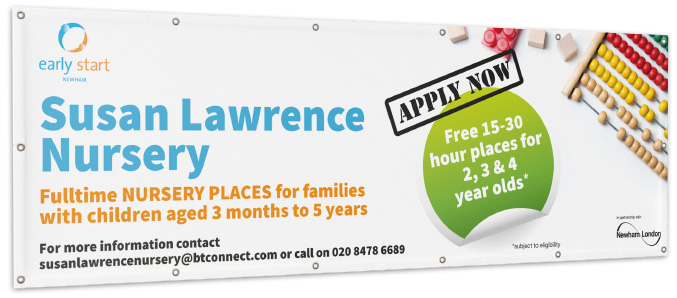 BIG visual impact, at a very affordable price.
Easy storage and weather resistant. Ideal for long or short term use.
Suitable for both inside and outside use.

Description
Printed on a durable 440gsm PVC stock with fade resistant UV inks.
All banners are hemmed and eyelets are included as standard approximately every 30cm around the edge.
Size
Finished image size:
0.5m x 1m | 0.5m x 1.5m | 1.5m x 2.5m | 1.5m x 3.5m
1m x 1m | 1m x 1.5m | 1m x 2m | 1m x 2.5m | 1m x 3m | 1m x 3.5m | 1m x 4m
2m x 2m | 2m x 3m | 2m x 4m | 2m x 6m


Material
Standard 440gsm

To minimise creasing, when storing we advise rolling your banner.
Printing Process
Four colour process (CMYK)
Whatever your print requirements we'd love to hear from you,
call us on 01923 211679 or email: